About Paradigm
Paradigm is public awareness.
We provide public awareness and damage prevention compliance services to assist with the regulatory requirements of 49 CFR 192 and 195, as well as API RP 1162. Since 2001, the oil and gas industry has worked with Paradigm to fulfill public education and community awareness requirements.
Our history of implementing public awareness programs and compliance services pre-dates API RP 1162. Most of the pipeline industry's large, mid-sized and small operators, as well as many local distribution companies, utilize Paradigm's compliance services.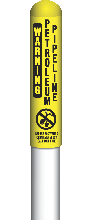 Paradigm offers full-scope compliance programs from audience identification through effectiveness measurement, and consulting services for plan evaluation and continuous improvement. After each compliance program, we provide structured documentation that precisely records all elements of the program's implementation to assist with audits.
Paradigm leads the way in industry service. Pipeline operators and local distribution companies trust in Paradigm to implement their public awareness and damage prevention programs. Each year we:
Distribute more than 25 million pipeline safety communications
Compile and analyze roughly 250,000 stakeholder response surveys
Facilitate more than 1,000 liaison programs
Implement approximately 1,000 public awareness compliance programs
Provide audit support and assistance with over 50 public awareness audits
---