FieldForm
Public Awareness and Damage Prevention are data-driven initiatives that place emphasis on the speed, accuracy, and thoroughness of the data collected and the ability to collect it in real time. Pipeline companies must consider alternatives to current methods, such as paper forms, that don't offer the same security, quality controls, or flexibility to capture location-based information and stakeholder interaction (GPS, location, images, video, date/time stamping, and signatures) that are vital to safe operations.
Paradigm developed its enterprise level FieldForm application to allow pipeline operators to streamline field-based data collection across multiple job responsibilities. Any paper form can be quickly and easily converted to digital format containing both pre-populated drop-down menus and free-from text entry fields, such as:
Stakeholder Interaction
Emergency Response Capabilities
One-Call Ticket Investigation
Right-of-Way Inspections
Integrity Management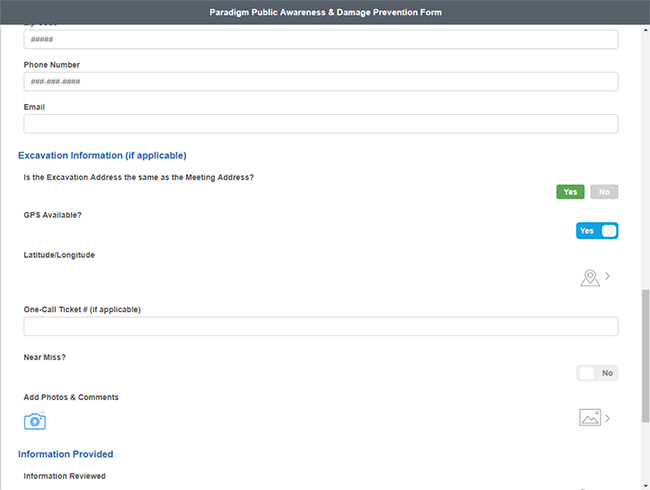 The permission-based structure of FieldForm allows the administrator to grant access to forms at the individual user level.
In addition to the pre-loaded forms available online and offline, FieldForm allows administrators to dispatch forms and work orders through the dashboard interface from a smartphone, tablet, or PC. Users will receive a notification that a new form has been dispatched and is awaiting completion. Administrators can also view custom activity reports and export to Excel and .pdf formats.