Right-of-Way Mailings
API RP 1162 Compliance
Each program implementation begins with a consultation from a Public Awareness specialist. As we discuss industry trends, results from previous programs, and continuous improvement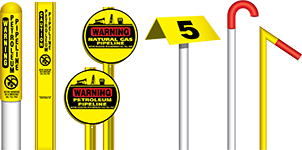 opportunities, a path forward is shaped to make your program a success.
Stakeholder Audience Identification
The first and most crucial step to compliance with API RP 1162 is the audience identification process. Paradigm employs the most sophisticated audience identification process on the market today, and continues to refine the process for pipeline operators' continuous improvement efforts.
Communication Development
Whether Paradigm is developing a direct mail campaign, face-to-face liaison with emergency responders, web-site content, print ads, newspaper articles, or radio communications; we pride ourselves on the effectiveness of our clients' communications. Your message to your stakeholders takes great consideration, but Paradigm has the expertise to guide you in the right direction.
Message Delivery Methods/Media
Most API RP 1162 baseline programs are distributed via "targeted distribution of print materials". This is due primarily to the baseline compliance requirement noted in API RP 1162. However, "mail" also happens to be the most common method of stakeholders to receive communications. Pipeline systems geographic makeup strengthens the case that direct mail is the primary method of communication pipeline operators' use. Finally, recent industry research supports direct mail as the method stakeholders prefer pipeline operators distribute API RP 1162 communications.
Effectiveness Measurement
Paradigm's effectiveness measurement solutions include both qualitative and quantitative studies for API RP 1162 effectiveness. Our experience includes all forms of research for compliance, including, focus group research, printed surveys, and phone surveys.

---